"The people come first." That's what Steel River Group president, Trent Fequet is quoted as saying in a 2020 article in Canadian Business Magazine naming his company as the fastest growing Canadian start-up. Though continuing to quickly expand, Steel River Group aims to be a different kind of company.
Steel River Solutions, a division of Steel River Group, provides general contracting services within the oil and gas, heavy industrial, and civil construction sectors. For the past five years they have operated all over western Canada and are currently in the second year of a large project in the East Kootenay for FortisBC.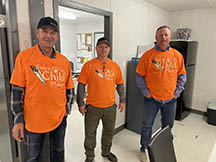 With a company commitment to provide outstanding service, cultivate opportunities and relationships, and to and seek sustainable initiatives that enhance the communities in which they operate, Steel River's governing principles are deeply rooted in Indigenous values, beliefs, and culture. They are grounded by a strong sense of community, centred around people and relationships.
Steel River is committed to local communities and to future workforce development and actively supports post-secondary institutions and Apprenticeship training programs. College of the Rockies students were the lucky beneficiaries of this commitment through a substantial donation of electrodes to the College's Welder program.
"College of the Rockies provides training for much-needed Apprentices and we're thrilled to help support that through the contribution of these materials," said Leon Gladue, Steel River Group's Indigenous Coordinator. "We're especially pleased that the College has supports in place for Indigenous students working toward completing their Apprenticeships."
The College's Welding department was pleased to receive the donation.
"It was very exciting to have Steel River make this generous contribution to our program," said Joy Brown, Trades Department Head. "Support from industry for our students while they are training for careers in the skilled trades, and through employment opportunities after they graduate, is essential to the success of our programs."
Going forward, Gladue and the team at Steel River Solutions hope to continue to remain engaged with the College.
"We actively seek out mutually beneficial working relationships in the communities that surround our projects as they help us to better understand the region, its resources, and how we can be a better employer, working partner, and contributor to the region," Gladue said. "We look forward to expanding our relationship with the College, taking advantage of the industry-related training services the College provides, and hope to connect with Indigenous students as they finish their programs and look to start their careers."