The BC skilled trades are under pressure. Many workers have reached retirement age yet the number of new skilled tradespeople coming into the industry is not keeping up with those leaving.
Part of the issue is the lack of diversity in the skilled trades industry, primarily a lack of females. In BC, women represent only 4 percent of construction workers, and that number is even smaller in other trades. Right now, there is an enormous opportunity for women seeking secure, well-paid, and fulfilling employment. Jenny Bateman, Alysha Buchy, and Kelly Crombie plan to take full advantage of that opportunity.
When Jenny Bateman was in high school, she was interested in a career in the skilled trades. But at the time, it wasn't as common for women to follow that career path. She found the pressure to pursue academics, her struggle with math, and not knowing which trade would suit her best to be barriers to her pursuing her dream.
Jenny, more than 25 years after graduating from high school, had the opportunity to explore a career in the skilled trades through College of the Rockies' Women in Trades Sampler program. The program allowed participants to try out six different trades over 12 weeks.
"I hadn't actually considered going back to school, but I love to get my hands dirty and to learn new skills," she said. "I found it a bit daunting to go for it since trades seemed to be male dominated and math skills were essential but the thought of being surrounded by other women seemed like a less intimidating way to learn.
And learn is just what Jenny did. With the support and encouragement of the Electrician instructor helping her to get past her fear of math, Jenny found she was drawn to the Electrician program. She began her electrical training in February 2022.
"Times have changed, and the opportunities are endless, seeing women in trades is not unusual anymore," she said.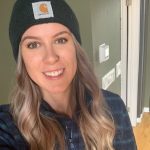 Alysha Buchy agrees. She knew right from the start that her interests and skills would be best utilized in the electrician field. She completed the Electrician foundation program at College of the Rockies but was eager to continue her education. She was excited when she learned she had been accepted into the College's Mining Apprenticeship Program (MAP), a program that allowed her to complete work-based training hours at local mine sites operated by Teck Coal's Elk Valley Operations with the College acting as the employer-sponsor. Through that program, Alysha became a Red Seal certified electrician and is employed full-time at a Teck Coal Mine.
Kellie Crombie was looking for a more satisfying career when, because of her enjoyment of continual learning, she decided to enrol in the Heavy Duty Mechanical program at College of the Rockies – and found her calling!
"In mechanics, technology is always changing, everything is getting more sophisticated, and you are always learning," she said.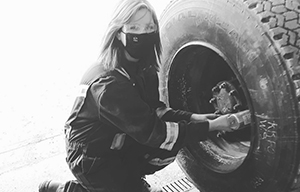 Having received a Brilliant Expansion Equity Working Group – Women in Trades Scholarship allowed Kellie to pursue her education. "Thank you for making my dream a reality," she said. "As a mom who once thought my career was over, I've been given an opportunity to be the best I can."
Though Kellie believes she has been given an opportunity, the reality is she gave herself the opportunity, just as Jenny and Alysha did. They know that even though there may still be many more men than women in the skilled trades, right now is the optimal time for women to make serious inroads.
We can't wait to see it happen.