If winter is your preferred season, the Kootenay Lifestyle is made for you. In fact, this is home to the Powder Highway, an area with the highest concentration of skiing and riding in the world. Take your pick from world-class ski resorts, heli-sking, cat-sking, ski touring, cross country skiing, snowshoeing, fat biking and snowmobiling – the Kootenay Lifestyle embraces it all. Be prepared, this is likely to be another long one!
Fernie
Let's start our winter tour in Fernie.
With 142 runs and 3,550 vertical feet, Fernie Alpine Resort is famous for its big snowfalls (average of over 30 feet per season) and extensive terrain. They have everything from easy green runs to double blacks for you to enjoy on your skis or snowboards as you take in the spectacular Rocky Mountain views.
Those who are skiing or boarding at a strong intermediate level and who are looking for a more extreme (and less crowded) experience can head to the back country slopes with Fernie Wilderness Adventures for some catskiing.
Mountain Addicts provide both guiding in Fernie and Revelstoke and instruction in mountain safety and avalanche courses while Grizzly Basin Mountain cabin rentals makes staying in the backcountry easy and comfortable.
We definitely can't miss mentioning Catskiing at Island Lake Lodge (or anything at the Lodge, really)
Cross-country skiing more your style? Fernie boasts over 50 km of groomed cross-country trails in four unique areas: the Elk Valley Nordic Centre, Fernie Alpine Resort, Montane Nordic & Multi-Use Trails, and the Fernie Golf Club Cross Country Ski Trails.
Snowshoers rejoice, Fernie has a lot to offer you as well.  Whether at the Fernie Alpine Resort, Island Lake Lodge, or spending time on the vast hiking and mountain bike trail network in the region, Fernie is a snowshoer's paradise. Looking for a guided snowshoe tour? Fernie Alpine Resort Snowshoe Tours and Wild Nature Tours have you covered.
If ice fishing is your thing, the frozen lakes and rivers in the Fernie area offers plenty of serene angling locations. Just be sure the ice is safe.  Or, go out with experienced guides from Fernie Wilderness Adventures.
Throw some rocks at the Fernie Curling Club. They have drop-in curling on Thursday nights.
Strap on your skates for public indoor skating at the Memorial Arena or enjoy the fresh mountain air on the outdoor hockey and skating rink.
The Elk Valley Snow Shepherds offer  a variety of guided snowmobile excursions as well as avalanche education and riding clinics.
Think biking needs to stop when the snow falls? Think again. Fat biking is a whole new way to experience a Kootenay winter. Ridetheory offers lessons for those new to the fat biking world.
And of course, what would winter in Canada be without hockey? Fernie is home to the Fernie Ghostriders who compete in the KIJHL (Kootenay International Junior Hockey League).
Need to rent or purchase some gear? Fernie has you covered – and then some!. Check out: Board Stiff, Gear Hub, the Ski Base, The Guide's Hut, Commit Snow & Skate, Sports Alpine Ski Boutique, All In Skier Services, Edge of the World, Quest Outdoor Sport Rentals, Ghostrider Motorsports,
Kimberley
Home to another amazing ski destination, there is a reason Kimberley's slogan is A Good Place to Be.
Let's start with the obvious, skiing and boarding at Kimberley Alpine Resort (KAR). Despite an unexpected event that impacted the 2021/22 ski season, everything is on track for the hill to be fully operational for 2022/23. With more bluebird days at this resort than any other in the province, skiers and boarders of all skill levels love soaking up the sunshine while tackling the average of 13 feet of snow each season. As amazing as the sunny days are, don't forget to try some night skiing too.
KAR isn't only about the downhill, though. They offer three different snowshoe excursions that include cooking S'mores over a fire, a skating rink. fat biking, and more.
Boulder Hut Adventures offers an opportunity to experience an authentic backcountry exploration and epic powder through their guided or self-guided backcountry skiing, ski touring, splitboarding, and snowboarding adventures.
The Kimberley Nature Park offers cross-country skiing snowshoeing, winter hiking and running, and fat biking – all in a peaceful and serene environment.  There are some great tobogganing hills there too.
The Kimberley Nordic Club has trails of varying degrees of difficulty and includes specialty trails constructed to be Paralympic skiing friendly.
Come in from the cold and warm up with an indoor climbing experience at Spirit Rock Climbing Center.
Kimberley has you covered when it comes to hockey too. The Kimberley Dynamiters are a part of the KIJHLand compete at the Kimberley Civic Centre Arena.
And speaking of the Arena, you can strap on your skates and hit the ice there – or find a neighbourhood ice rink (typically in Townsite and Marysville as well as at Swan Park and Garden Park). Or if you're up to a short drive, Wasa Lake Provincial Park offers smooth ice and beautiful views of the Rockies on their a resident-maintained 3km skate path and  at toutdoor rink at the Lions Grounds.
Cranbrook
There's no ski hill right in Cranbrook, so what could you possibly do in the winter? Oh, so many things! Cranbrook provides mountains of opportunities for cross-country skiing, fat biking, snowmobiling, ice skating, ice fishing, and snowshoeing.
The South Star Recreation Area has more than 50 km of trails for cross-country skiers and fat bikers to enjoy while the Cranbrook Community Forest has 100 km of trails to enjoy by fat bike, snowshoe, or cross-country skis (special perk, if you're a College student staying on-campus, the Forest is right outside your door).
Just outside of town you can also strap on your snowshoes at the Wycliffe Buttes or The Bee Line.
Idlewild Park also provides some top-knotch tobogganing and snowshoeing opportunities.
The Cranbrook Snowmobile Club maintains a wide range of groomed trails for snowmobile enthusiasts to enjoy – and they organize some events, like the Poker Run, throughout the year.
You have a lot of options when it comes to skating in Cranbrook – both indoors and outdoors. The Memorial Arena, Kinsmen Arena, and Western Financial Place all offer some some public skating times. For those interested in skating outdoors under one of our region's bluebird skies (or under the stars), you can choose from Baker Park or Pop Price Park.
Since 2019, Cranbrook has been home to Junior A hockey team the Cranbrook Bucks who call Western Financial Place home.
In the Cranbrook/Kimberley area, equipment rentals or purchases are available at: College of the Rockies, The Kimberley Nordic Club, Funhogz Gear Exchange, High Country Outdoor Gear & Clothing, Mountain Man Outdoors, and Gerick Sports.
Creston
With Creston's location so near the Kootenay Pass, and the pleasant winter climate, there are some epic opportunities for big-mountain backcountry skiing, riding, snowshoeing, and snowmobiling. Here's a few highlights:
Ka Papa Cedars Trail provides a scenic location for snowshoeing and cross-country skiing. Many skiers and snowshoers also take advantage of the flat-top dykes at the Creston Valley Wildlife Management Area or enjoy the short but sweet Bridal Lake Trail in Stagleap Provincial Park. Those looking for a more challenging snowshoe experience will enjoy Ripple Ridge & Lightning Strike Cabins or Cornice Ridge.
Sledders will love the Char Creek Trail (make sure to get your permit from the Kokanee Country Snowmobile Club) and can warm up mid-ride around the wood stove in the Club-maintained cabin. Russell Creek is another popular place to sled.
Both sledders and cross-country skiers, should also check out the following: North Kootenay Lake Trail, Crawford Creek Trail, Kokanee Springs Golf Course, Gray Creek Trail, and Sanca Creek Trail.
One of the most accessible backcountry skiing destinations in the region, Stagleap Provincial Park sees consistently awesome snow conditions while the Selkirk Loop provides the ideal locations for world-class skiing, backcountry snowcat,and heli-skiing guides, and lots of cross-country ski and snowshoe trails.
Those looking for some ice for skating or ice fishing should check out Duck Lake in the Creston Valley Wildlife Management Area as well. Anglers might also want to try out Kootenay Lake (winter fishing, but the lake doesn't freeze over).
Junior Hockey is represented in Creston by the Creston Valley Thunder Cats.
If that's not enough to do, the Creston Valley Winter Festival has a little something for everybody.
Looking to rent or buy gear for your outdoor Creston adventures? Summit Cycles and Sports has you covered.
Invermere
Invermere, on the "warm side of the Rockies", has many exceptional things to do outside in the winter. Downhill skiing, cross-country skiing, the longest naturally frozen skating trail in the world, fat tire biking, snowshoeing, snowmobiling, paragliding, soaking in hot springs – you won't get bored in this small town.
Of course, we'll start with Panorama Mountain Resort – the place where memories are made on their 4,000 vertical feet. In addition to their amazing downhill skiing, there is an extensive trail system for cross-country skiing, snowshoeing, and fat biking. Just down the road you'll find the Fairmont Hot Spring Ski Area with 14 runs available from green to black diamond and Nipika Mountain Resort is located about 30 minutes from Radium.
Though the downhill is unforgettable, we can't talk about outdoor winter recreation in Invermere without talking about the Lake Windermere Whiteway. As mentioned above, this is the longest naturally frozen skating trail in the world and offers more than 30 km of groomed trails on the frozen surface of the lake where you can enjoy skating, Nordic skiing, and skate-skiing. There are also rinks for pond hockey and you'll see dozens of ice fishing huts set up, some of which you can rent. The holes in the ice are already cut and there's a heater inside to keep you warm – luxury ice fishing.
In January, Lake Windermere is the location for the annual Bonspiel on the Lake, a unique curling event found only in Invermere.
Cross-country skiers will want to make their way to the Panorama Nordic Centre for their 20 km of trails. While you're out there, head to Hale Hut if you'd like a place to relax and warm up.
Both Radium Hot Springs and Fairmont Hot Springs also offer cross-country ski trails. And of course, winter is the perfect time to enjoy their hot springs. In Radium, you can also take part in an Escape Room, camp in a Yurt, and go on showshoe tours.
Sledders in the Columbia Valley (the region surrounding and including Invermere) have a choice of a variety of snowmobile tours or enjoy pristine skiing in the backcountry with RK Heliski, CMH Heli + Skiing, Glacier Helicopters, East Kootenay Mountain Guides. True Key Adventures offers helicopter sightseeing tours as well as tours for snowmobiles, skiing and snowboarding, cross-country skiing, and ice fishing.
Need to borrow some gear? Invermere has rentals available for snowboards, skis, fat bikes, snowshoes, skates, and cross-country skis. You can also find rentals at Nipika and Far Out Gear Rentals.
Golden
Surrounded by the Rocky, Purcell, and Selkirk mountains, Golden is a winter wonderland for the outdoor enthusiast.
Another world-renowned ski resort – Kicking Horse Mountain Resort is located in Golden. With over 24 feet of average snowfall, 1,350 metre vertical, and more than 120 runs, this amazing mountain has lots to offer.
If a groomed hill isn't your thing, book a heli or cat ski adventure with Chatter Creek Cat Skiing or Great Canadian Heli-Sking or connect with one of these local guides to take you on a backcountry adventure and check out BC Mountain Guides, Adrenalin Descents, All Aspect Alpine, Flow Guiding Service, Golden Powder Guiding, Battle Abbey,Campbell Ice Field Chalet, Golden Alpine Holidays, Icefall Lodge, Mistaya Lodge, Purcell Mountain Lodge, Sorcerer Lodge, and Talus Lodge.
If Cross-Country skiing is your preference, Golden provides tons of groomed classic and skate cross country ski trails like Dawn Mountain Nordic Centre, Golden Golf Course, Moonraker Trails, Yoho National Park, and Cedar Lake  – or create your own tracks across frozen lakes and through forests. Yoho, Cedar Lake, Dawn Mountain Nordic Centre, and Moonraker Trails are all ideal for snowshoers too.
Get your motor running with snowmobile tours from Golden Snowmobile Rentals and Tours, Snowpeak Rentals and Tours, Chatter Creek Snowmobiling, White n Wild Snowmobile Tours, Stay Wild Backcountry Skills, or Rocky Mountain Riders.
Golden looks out for fat bike enthusiasts as well, with trails that are groomed in the winter.  Watch the Golden Cycling Club's Facebook page for updates.
Ice skaters and shinny players, you'll be stoked to hear many local parks are converted into small neighbourhood skating rinks in the winter. See this map to find where they are.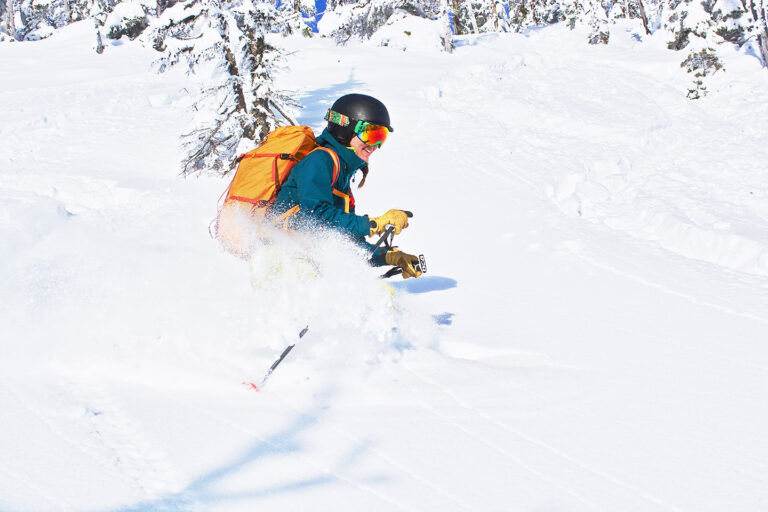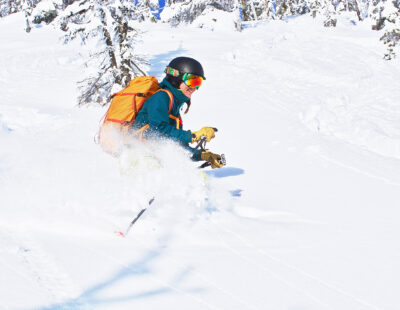 Looking to rent or buy some outdoor gear? You have lots of options like: Rocky Mountain Riders, Golden Nordic Ski Club, Selkirk Ski and Bike Shop, Golden Snowmobile Rentals, and Kicking Horse Mountain Resort.
Well, that's our look at some of the things that make the Kootenay Lifestyle so unique and amazing. It's not one thing, it's a combination of everything we've looked at so far and so much more. But don't take my word for it. Get out there and experience it for yourself. You won't regret it.