The College's Trades Sampler program entered a win-win partnership with the Windermere District Farmers' Institute
College of the Rockies' Trades Sampler program has formed a partnership with the Windermere District Farmers' Institute (WDFI) that has benefitted both parties.
"The Trades Sampler program is able to hold its training at the Institute's barn free of charge," said Michelle Taylor, Invermere campus manager. "In exchange, the students completed repairs to the building's interior, improving its safety and functionality."
In addition to other, smaller, repairs Trades Sampler students refurbished the hard-to-manage vendor windows with safer, more functional ones and insulated much of the building.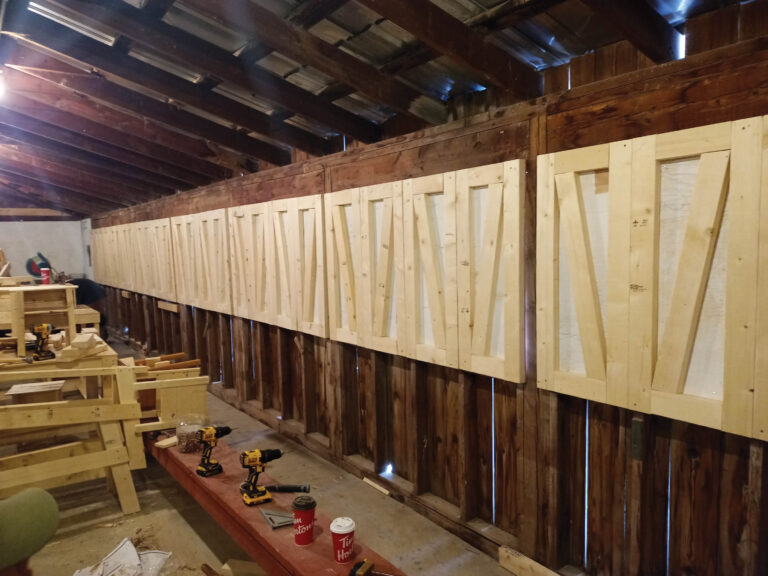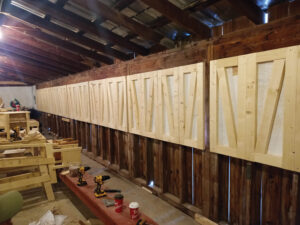 The Windermere District Farmers' Institute holds a Farmers' Market each Wednesday evening and vendors have been thrilled with the renovations completed.
"We are really pleased with all the work done in the historic barn," said Anne Rose, Manager and member of WDFI. "A big thank you to all the College's trades students and to trades instructor Jesse Okros for his skills and management of this amazing project. The Farmers' Market vendors are excited to start this season with all the upgrades in the barn."
The Trades Sampler program has been held at the Invermere campus since 2002. Each intake is made up of twelve high school students from David Thompson Secondary, primarily from grades 11 and 12. This year, the 12-week program introduced students to 10 different trades: Carpentry and Finishing, Plumbing, Electrical, Automotive, Welding, Heavy Duty Mechanical, Industrial Mechanic (Millwright), Saw Filing, Insulation installation, and Surveying. Students also gain a variety of industry certifications including Occupational First Aid Level 1, WHMIS, Fall Protection, and S100 Fire Suppression.
Students also took part in a "Student for a Day" experience at the Cranbrook main campus in the electrical, welding, or automotive programs.
Community support for the Trades Sampler program has been a key to its ongoing success, with Invermere Home Hardware and Canfor being two of the program's biggest supporters. This year, Canfor, in addition to donating lumber, provided students with a field training day where they gained hands-on training in a variety of trades.
"Our latest intake of twelve students all successfully graduated on May 5 and I'm already getting requests from a variety of businesses looking to hire them for entry-level positions," Taylor said. "We're excited to see the positive momentum happening around this program and are grateful to be able to continue nurturing a great partnership with David Thompson High School, ITA, WDFI, Home Hardware and Canfor."
Over the years, legacy projects from the Trades Sampler program have included: compost builds and raised garden beds at Groundswell Network and Community Garden, storage sheds for a CV Rockies fundraiser auction, little free libraries, benches on the Whiteway, small picnic tables for Little Badgers Daycare at the Akisqnuk First Nation and stop-gap ramps for wheelchair accessibility in downtown Invermere.
Learn more about College of the Rockies' Invermere campus at: cotr.ca/invermere
About College of the Rockies
For more than 45 years, College of the Rockies has provided post-secondary education that meets the needs and aspirations of the people, industry, and businesses of our region. Each year, we welcome more than 10,000 full-time and part-time students into a full range of programs, including: skilled trades, university studies, adult upgrading, early childhood education, health and human services, business, office administration, tourism, hospitality, recreation, fire services, continuing education, and contract training. Through smaller class sizes, highly personalized instruction and dedicated support services, our students are primed to succeed in the job market, or in the next stage of their academic journey.
Media Contact:
Heather Jackson
Manager, Communications and Marketing
College of the Rockies
250-489-8258
jackson@cotr.bc.ca