New rehoming solution is a win-win for the cats and the College
College of the Rockies has received an offer from the Regional Animal Protection Society (RAPS) of Richmond, BC to transfer the 14 feral cats currently living on College property to the RAPS Cat Sanctuary, the largest and best equipped cat sanctuary in Canada.  This facility is situated on three acres where about 400 cats – the majority of whom were homeless or feral – live together in a clean, caring environment by the nearby RAPS Animal Hospital.
"We are very grateful to RAPS for offering EKCares and the College an option for housing the feral cats," said Paul Vogt, College of the Rockies President.  "After speaking with their CEO and learning about their facilities and standards of care, we truly believe that the cats will be happy and healthy in this potential new home."
Regional Animal Protection Society (RAPS) was formed in the 1980s, with a goal of feeding, spaying, and neutering homeless and feral cats. Today, RAPS is a no-kill animal services agency that operates the RAPS Animal Hospital, an Adoption & Education Centre, Thrift Stores, and what is now Canada's largest cat sanctuary.
"RAPS believes that every life is valuable and ensures that the cats receive high-quality care, including shelter and veterinary services, throughout their lives," said Eyal Lichtmann, CEO, RAPS. "Within our beautiful grounds, with specialized secure housing, our cats are cared for by a dedicated team of about 200 volunteers. Also, to ensure the health of the cats, we have veterinary care available on-site at the RAPS Animal Hospital, which is one of the largest not-for-profit animal hospitals in Canada."
"We have had many cats come to us from all over the province and they adapt well to their new home," added Lichtmann.
The RAPS facility is compliant with the Canadian Standards of Care in Animal Shelters, a guideline document issued in 2010 by the Association of Shelter Veterinarians.  The Standards mandate a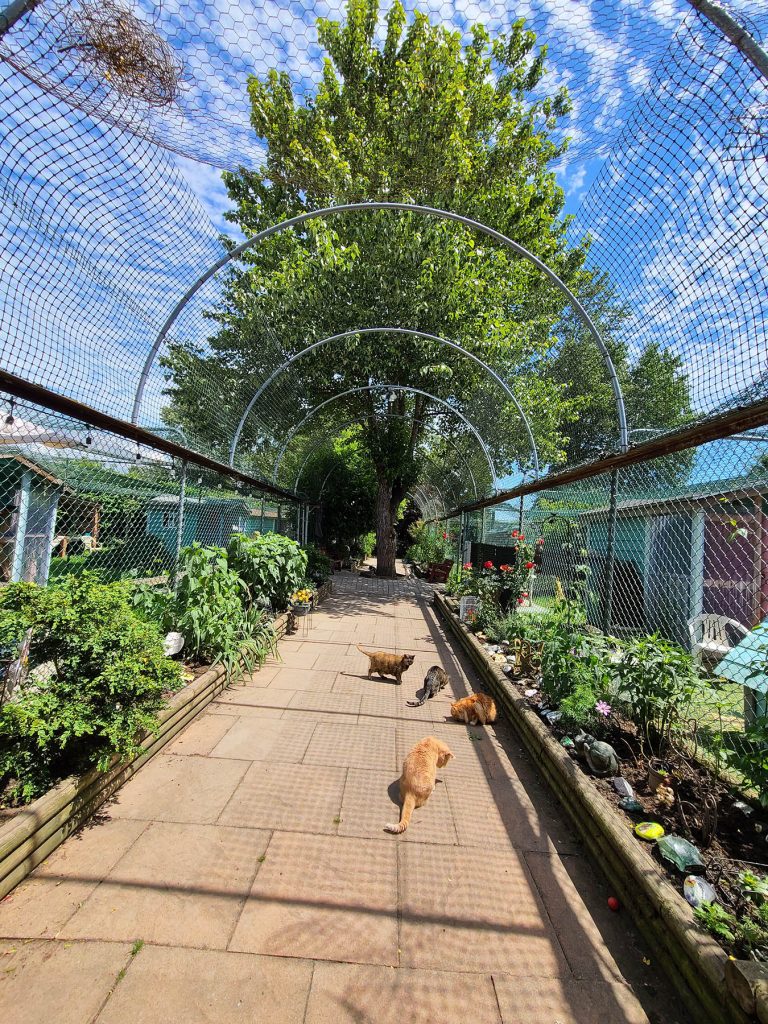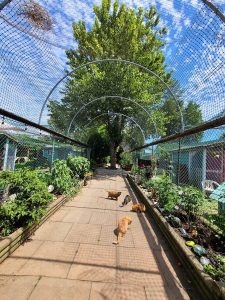 level of care for sheltered animals that includes abundant indoor and outdoor space requirements, nutritious food, cleaning standards, temperature controls, and regular health testing and veterinary care.
The 14 feral cats currently maintained on the College's Cranbrook campus are served from temporary structures, located in a fenced equipment compound, where they can come and go at will.  Health and safety issues, largely due to the cats taking shelter in training vehicles used by the automotive program, prompted the College to seek another location for the colony.  Prior to the offer from RAPS, an enclosed shelter was being considered at another location on campus.  However, the College does not have the capacity to provide the facilities or level of care already in place at the RAPS Cat Sanctuary. RAPS offers both enriched indoor and secured outdoor spaces, flower gardens, trees and a variety of lounge areas, in Richmond's more moderate climate, as well as the team of volunteers and professional staff who provide constant care to the animals.
"The College is grateful for the devotion that EKCares has provided these animals over the years. We look forward to working cooperatively with them to ensure the best outcome for these cats. We are confident that the best solution is for them to be cared for at the RAPS Cat Sanctuary," Vogt said.
For more information about RAPS, go to: www.rapsbc.com
About College of the Rockies
For more than 45 years, College of the Rockies has provided post-secondary education that meets the needs and aspirations of the people, industry, and businesses of our region. Each year, we welcome more than 10,000 full-time and part-time students into a full range of programs, including: skilled trades, university studies, adult upgrading, early childhood education, health and human services, business, office administration, tourism, hospitality, recreation, fire services, continuing education, and contract training. Through smaller class sizes, highly personalized instruction and dedicated support services, our students are primed to succeed in the job market, or in the next stage of their academic journey.
Media Contact:
Heather Jackson
Manager, Communications and Marketing
College of the Rockies
250-489-8258
jackson@cotr.bc.ca
RAPS Media Contact
Eyal Lichtmann
CEO
Regional Animal Protection Society
604-242-1661
eyal@rapsbc.com