From concept to completion – watch your project come to life with a career as a carpenter.
Are you creative? Do you enjoy working hands-on both indoors and outdoors? If so, a career in Carpenter might be the right fit for you!
To work as a carpenter, you should:
Have a passion for making and building things
Be precise, accurate efficient and be able to solve mathematical problems with ease
Be able to work independently or with a team.
Carpenters construct, erect, install, maintain, and repair structures made of wood, wood substitutes, lightweight steel, concrete and other materials. You'll be able to build from architectural designs, apply modern building codes, and keep pace with advances in sustainable building technologies.
To become a Carpenter there are two ways to start.
---
Carpenter Pathways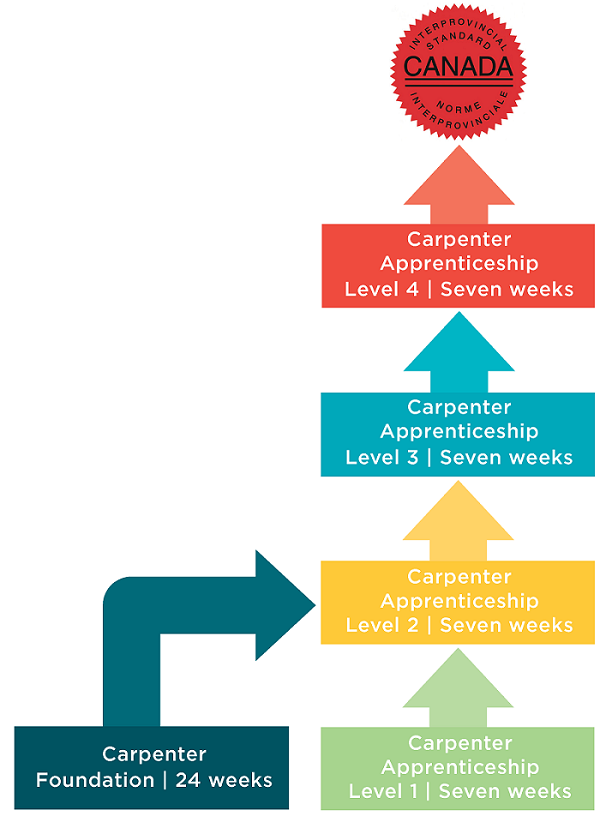 Foundation Program
24-week full time program
September intake
You do not need an employer to take the Carpenter Foundation program! In fact, the main reason to take the Carpenter Foundation program is to gain experience and knowledge about the carpenter trade to make it easier for you to find an employer to sponsor you for the remaining three levels of your apprenticeship.
If you are a high school student, contact the counseling office at your high school for information on how to become a Youth Train in Trades student and get a jump-start on your trades training while you complete your high school diploma. Learn more about the Youth Train in Trades program.
Carpenter Trades Foundation Training Schedule
| Program | Level | Starts | Ends | Length |
| --- | --- | --- | --- | --- |
| *Carpenter | FDTN | September 5, 2023 | February 29, 2024 | 24 Weeks |
| *Carpenter | FDTN | September 3, 2024 | March 6, 2025 | 24 Weeks |
*Projected | All dates subject to change
---
Apprenticeship Program
To begin an apprenticeship to become a carpenter, you must:
Have an employer sponsor
Register with SkilledTradesBC.
Complete your apprenticeship training
College of the Rockies offers all four levels of Carpenter Apprenticeship technical training.
Carpenter Trades Apprenticeship Training Schedule
| Program | Level | Starts | Ends | Length |
| --- | --- | --- | --- | --- |
| *Carpenter | 1 | April 22, 2024 | June 7, 2024 | 7 Weeks |
| *Carpenter | 1 | March 17, 2025 | May 2, 2025 | 7 Weeks |
| *Carpenter | 2 | February 26, 2024 | April 12, 2024 | 7 Weeks |
| *Carpenter | 2 | September 3, 2024 | October 18, 2024 | 7 Weeks |
| *Carpenter | 3 | October 30, 2023 | December 15, 2023 | 7 Weeks |
| *Carpenter | 3 | March 11, 2024 | April 26, 2024 | 7 Weeks |
| *Carpenter | 3 | October 28, 2024 | December 13, 2024 | 7 Weeks |
| *Carpenter | 3 | March 3, 2025 | April 17, 2025 | 7 Weeks |
| *Carpenter | 4 | January 2, 2024 | February 16, 2024 | 7 Weeks |
| *Carpenter | 4 | January 6, 2025 | February 21, 2025 | 7 Weeks |
*Projected | All dates subject to change