Industrial Mechanic (Millwright)
Industrial mechanics are in high demand – start your career here!
As an industrial mechanic (millwright), you're a true Jack of all Trades! Industrial mechanics, also known as millwrights, are equal parts electrician, machinist, mechanic, and plumber.
To work as an industrial mechanic, you should:
Have an interest in "the way things work" and the ability to dismantle and reassemble things.
Have the ability to draw things accurately and be detail oriented.
Have an awareness of your surrounding environment and workspace
Millwrights install, repair, overhaul, and maintain a variety of machines in addition to mechanical equipment like conveyor systems.
To become an Industrial Mechanic there are two ways to start.
---
Industrial Mechanic (Millwright) Pathways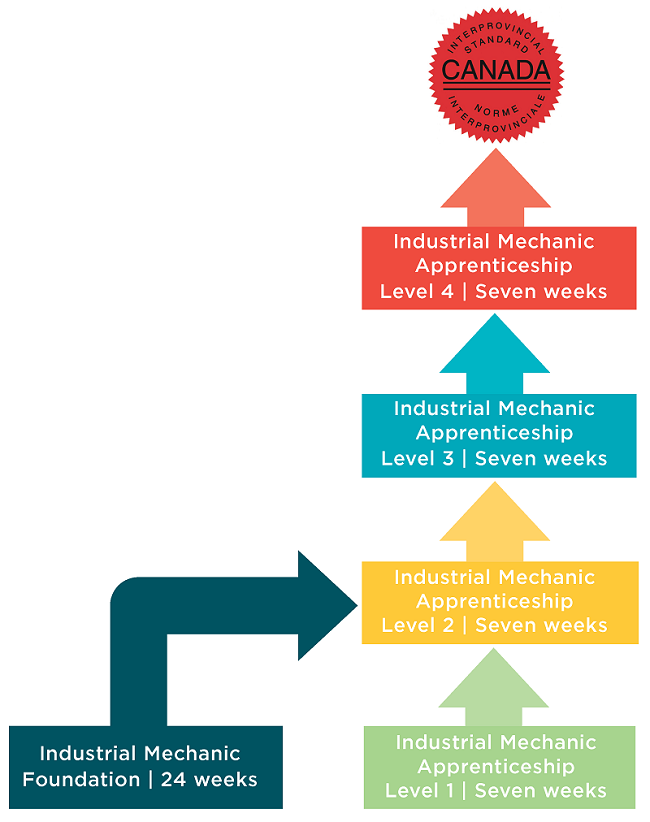 Foundation Program
24-week full time program
September intake
You do not need an employer to take the Industrial Mechanic Foundation program! In fact, the main reason to take the program is to gain experience and knowledge about the industrial mechanic trade to make it easier for you to find an employer to sponsor you for the remaining three levels of your apprenticeship.
If you are a high school student, contact the counseling office at your high school for information on how to become a Youth Train in Trades student and get a jump-start on your trades training while you complete your high school diploma. Learn more about the Youth Train in Trades program.
Industrial Mechanic (Millwright) Foundation Training Schedule
| Program | Level | Starts | Ends | Length |
| --- | --- | --- | --- | --- |
| *Industrial Mechanic (Millwright) | FDTN | September 5, 2023 | February 29, 2024 | 24 Weeks |
| *Industrial Mechanic (Millwright) | FDTN | September 3, 2024 | March 6, 2025 | 24 Weeks |
*Projected | All dates subject to change |
---
Apprenticeship Program
To begin an apprenticeship to become an Industrial Mechanic, you must:
Have an employer sponsor
Register with SkilledTradesBC
Complete your apprenticeship training
College of the Rockies offers all four levels of Industrial Mechanic (Millwright) technical training.
Industrial Mechanic (Millwright) Apprenticeship Training Schedule
| Program | Level | Starts | Ends | Length |
| --- | --- | --- | --- | --- |
| *Industrial Mechanic (Millwright) | 1 | March 3, 2025 | April 17, 2025 | 7 Weeks |
| *Industrial Mechanic (Millwright) | 2 | April 22, 2024 | June 6, 2024 | 7 Weeks |
| *Industrial Mechanic (Millwright) | 2 | September 3, 2024 | October 17, 2024 | 7 Weeks |
| *Industrial Mechanic (Millwright) | 3 | October 30, 2023 | December 14, 2023 | 7 Weeks |
| *Industrial Mechanic (Millwright) | 3 | February 26, 2024 | April 11, 2024 | 7 Weeks |
| *Industrial Mechanic (Millwright) | 3 | January 6, 2025 | February 20, 2025 | 7 Weeks |
| *Industrial Mechanic (Millwright) | 4 | January 2, 2024 | February 15, 2024 | 7 Weeks |
| *Industrial Mechanic (Millwright) | 4 | October 21, 2024 | December 5, 2024 | 7 Weeks |
*Projected | All dates subject to change |