At College of the Rockies, we often talk about the experiential learning opportunities available in many of our courses and programs. While these hands-on experiences are different for every course, recently Katie Burles, Geography instructor, shared a little about a field trip she and her students took part in.
On February 17, Katie accompanied her Geography 230 (Meteorology, Climatology, and Hydrology) students to the Kimberley Alpine Resort to complete a snow science lab. With complimentary lift passes from Resorts of the Canadian Rockies in hand, the group headed up the mountain.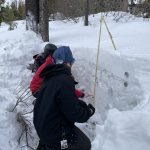 Through the snow science lab, students were able to put into practice the skills learned in the classroom including standardized sampling protocols for measuring snow depth, snow density, and snow water equivalent (SWE) using snow pits and snow tube measurements. Snow water equivalent is a measure of the amount of liquid water within a snowpack.
"Currently the snowpacks in the East Kootenay are approximately 84% of normal (1)," Katie said. "Snow melt is an important measurement for the management of water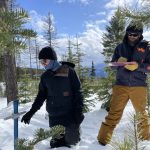 resources, including water availability and flood and drought forecasting. Students learning how this data is collected is critical."
Having the opportunity to get field experience through this snow science lab helped students to better understand the theory taught in the classroom.
"A field trip to Kimberley Alpine Resort allowed our geography class to access some higher elevation in order to conduct snow sampling and snow water equivalency testing," said student Ellen Nickle. "These experiences are truly invaluable as we put our classroom knowledge to use in a practical setting while learning new field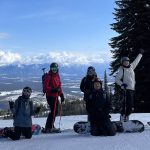 techniques."
While learning was the number one priority of the field trip, that isn't to say there wasn't any fun along the way. As Ben Rogers, another of Katie's students, put it, "The lab was just as educational as it was fun."
Learn more about College of the Rockies' Associate of Science degree, Associate of Science – Environmental Science degree, and Biology and Medicine Pre-Major Associate degree.