Take your love of food and creativity to the next level!
Imagine a career where you spend your day creating edible works of art! If you have a love of food , are creative and like to work as part of a team, then a career as a professional cook a great choice for you !
To work as a professional cook, you should:
Have a creative passion for food and flavours
Have a good communication skills and the ability to multitask
Enjoy working with people as part of a high energy team
Learn the skills you need to succeed in this fast-paced career, and showcase your talents in the College's own Class Act Dining Room. You'll learn from our Red Seal chefs who have a wealth of experience in the restaurant industry.
Here's how the College of the Rockies can help you to start a career as a professional cook:
---
Professional Cook Pathways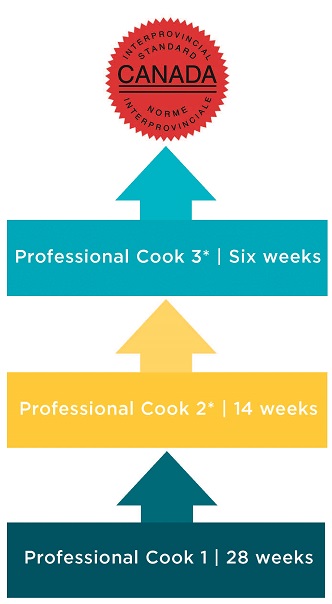 *Not currently offered at College of the Rockies. Visit the Trades Training BC website for details on dates and locations for these program offerings.
College of the Rockies offers Professional Cook Level 1 and Challenge Levels 1, 2 and 3.
Foundation Program
28-week full time program
September intake
You do not need an employer to take the Professional Cook program. In fact, the main reason to take this program is to gain experience and knowledge about the culinary industry to make it easier for you to get a job.
If you are a high school student, contact the counseling office at your high school for information on how to become a Youth Train in Trades student and get a jump-start on your trades training while you complete your high school diploma. Learn more about the Youth Train in Trades program.
E-PPRENTICE Program
Explore our E-PPRENTICE program which allows you to complete your Professional Cook apprenticeship online.
Professional Cook Training Schedule
| Program | Level | Starts | Ends | Length |
| --- | --- | --- | --- | --- |
| *Professional Cook | 1 | September 5, 2023 | March 28, 2024 | 28 Weeks |
| *Professional Cook | 1 | September 3, 2024 | April 4, 2025 | 28 Weeks |
| *Cook 1 Challenge | 1 | April 2, 2024 | April 3, 2024 | 2 Days |
| *Cook 2 Challenge | 2 | April 11, 2024 | April 12, 2024 | 2 Days |
| *Cook 3 Challenge | 3 | April 8, 2024 | April 9, 2024 | 2 Days |
*Projected | All dates subject to change |